What are poly bags?
Polyethylene plastic bags, also known in the industry as Poly Bags or Polyethylene Bags, are used in just about every industry for all sorts of applications. Common uses of poly bags include, packaging of food, industrial products, retail products, trash can liners, drum liners, box liners, carton liners, garbage bags, covers and more. (Also available as reclosable)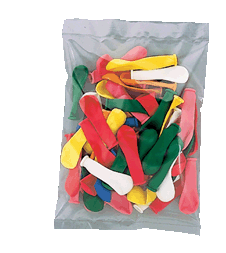 What size poly bag should I use?
First thing you should do is measure the product you are packaging (width, length & thickness). Then select a bag size that's slightly larger than your product to insure proper fitment. (Click here for a measuring guide for flat poly bags)
What thickness do I need?
Most header card packages use 2 mil poly bags, because the cost is less than the thicker mil bags, and most products packaged using header card packaging are not very heavy. If your product does weigh a lot, has sharp edges, or is in need of extra protection, you may want to use a 4 mil or 6 mil poly bag.