What are header cards?
Header cards are a piece of card stock with your product information, logos and graphics. Often they are die cut to allow for hanging from hooks on store displays. They are then folded over the top of your poly bag and stapled, securing your product in the poly bag.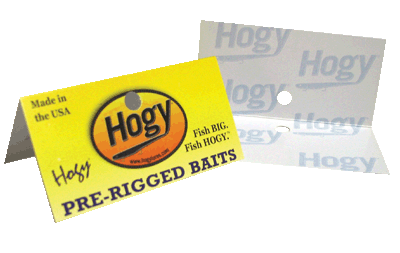 What type of stock do I need for my package headers?
Most header cards are printed on a card stock that is glossy on both sides. The standard thickness for the card stock is 10 pt. ( .010" or .254mm).
How much weight will a 10 pt. header support?
Most 10 pt. header cards with a single hang hole will support up to 2 lbs. In order for the header to support more weight than that, you will need to use multiple hang holes and/or a thicker paper stock (i.e. 12 pt., 16 pt. or 20 pt.). If you are in need of a header on a thicker stock or require multiple hang holes, please click here to contact us for a custom quote.
How do I create my header card graphics?
Most header card graphics are generated in Photoshop, Illustrator or InDesign. There are freeware programs, such as: Gimp, Inkscape or Scribus that can be used as well. Click here for file specifications for the artwork to be considered "press-ready".
Once you have selected your layout program(s), you need to determine what size you need the header card to be. First, measure the width of your poly bag to determine the width of your header card. Next, you need to determine how much information to include on the header. The height of the header is determined by the amount and size of the information that needs to be included. Once you have your size nailed down, you can use our Header Card Dieline Generator, so you can design your graphics around the hang holes.
Once the graphics are complete, they are saved as press-ready PDF's, and sent to HeaderCardPackaging.com to generate the actual header cards. Dont want to deal with the headache of designing your artwork? Try our professional Header Card Design Services! As well as, our Header Card Printing Services!